Get ready for the annual King of the Reach (KOR) fishing derby, held on the Hanford Reach section of the Columbia River every October since 2012. In partnership with the Washington Department of Fish and Wildlife (WDFW), the Grant County Public Utility District (GCPUD), and the CCA Washington Tri-Cities Chapter, the KOR has a unique goal. Unlike traditional fishing tournaments that focus on catching the most or biggest fish, the KOR aims to preserve the future of the Hanford Reach population. Angler participation in this event helps collect natural origin Upriver Bright (URB) fall Chinook salmon, which are incorporated into the broodstock of the Priest Rapids Hatchery (PRH). These URBs play a crucial role in sustaining local adaptations and integrating the natural and hatchery populations in the Hanford Reach. The KOR has proven highly successful and has become an annual event to support the PRH's efforts in ensuring a thriving abundance of URBs for future generations.
All 2023 KOR participants MUST register through WDFW as a volunteer (instructions below), read the KOR Rules & What to Expect, as well as the Waiver & Release.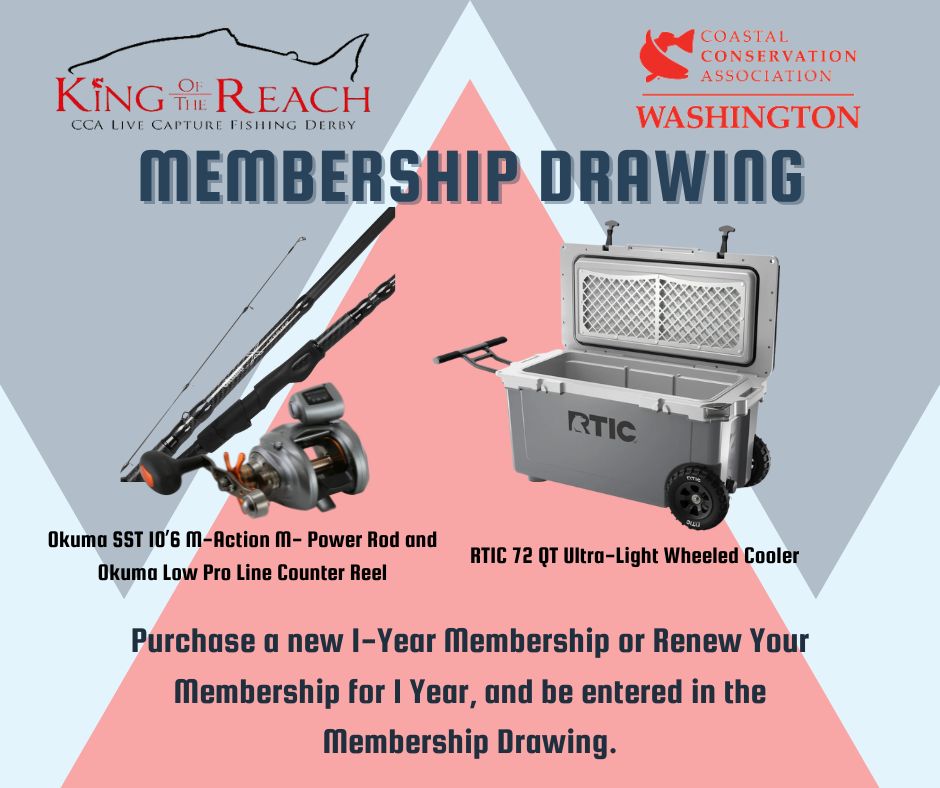 Membership Drawing!
Here's an exciting opportunity for you to snag an Okuma SST 10'6″ Medium-Action Medium-Power Rod, an Okuma Low Pro Line Counter Reel, and an RTIC 72 QT Ultra-Light Wheeled Cooler. To get your chance at winning these fantastic prizes, all you need to do is either purchase a new 1-year CCA Membership or renew your existing membership for a year below. Simply make your purchase of the 1 Year CCA Membership/Renewal for $35, and you'll automatically be entered into the giveaway. If you are a Life Member you are included in this as well. Simply purchase a $35 membership and you will be entered. Good luck!
Boat Captain's Register Here:
Registration opens 9/5/23 at 12:00 PM
Angler's Register Here:
Registration opens 9/5/23 at 12:00 PM
Boat Captain and Angler Registration List
****List will be periodically updated****
Participant #
Name
Completed WDFW Registration
Boat/Party Name
Boat Captain

X

if Yes

1
John Casey
X
1A
John Casey
X
2
Nathan Ruane
X
2A
Nathan Ruane
X
9
Jason Bryan
X
9A
Jason Bryan
X
9B
Jeremy Percifield
X
Jason Bryan
9C
Kelvin Ratchford
X
Jason Bryan
10
Andrew Richman
X
10A
Andrew Richman
X
11
Tony Barnard
Tony Barnard  Party
X
11A
Tony Barnard
X
Tony Barnard  Party
12
Cole Bode
Cole Bode Party
X
12A
Cole Bode
X
Cole Bode Party
12B
Bill Gwinn
X
D. Hittle & Associates, Inc.
12C
Ty Lord
X
D. Hittle & Associates, Inc.
12D
Randy Valerio
X
D. Hittle & Associates, Inc.
13
Philip Bower
Philip Bower Party
X
13A
Philip Bower
Philip Bower Party
14
Dustin Breazeale
Dustin  Breazeale Party
X
14A
Dustin Breazeale
X
Dustin  Breazeale Party
15
Michael Buckner
Buckner
X
15A
Michael Buckner
X
Buckner
15B
Bob Buckner
X
Buckner Party
15C
Clay Julian
X
Buckner Party
15D
Mark Phillips
Buckner Party
16
Kristopher Butler
Team Lowe
X
16A
Kristopher Butler
X
Team Lowe
17
Jonathan Caldwell
Jonathan Caldwell Party
X
17A
Jonathan Caldwell
X
Jonathan Caldwell Party
18
Dave Cleavenger
Dave Clevenger Party
X
18A
Dave Cleavenger
X
Dave Clevenger Party
18B
Kayden Zumwalt
X
Dave Clevenger Party
19
Jordan Clemens
Jordan Clemens Party
X
19A
Jordan Clemens
Jordan Clemens Party
20
David Dalan
David Dalan Party
X
20A
David Dalan
X
David Dalan Party
21
Lance Dugan
Lance Dugan Party
X
21A
Lance Dugan
X
Lance Dugan Party
22
Dale Franckowiak
D Franckowiak Party
X
22A
Dale Franckowiak
D Franckowiak Party
23
William Frost Jr
Frost Party
X
23A
William Frost Jr
X
Frost Party
23B
Jase Frost
X
William FROST JR Party
23C
William Frost
X
William FROST JR Party
23D
Travis Coffelt
X
24
Zac Gomez
Zac Gomez Party
X
24A
Zac Gomez
X
Zac Gomez Party
24B
Roy Bruce
X
Gomez  Party
24C
Todd Dragoo
X
Boat#24
25
Jason Heider
Jason  Heider Party
X
25A
Jason Heider
X
Jason  Heider Party
26
Rod Howe
Rod Howe Party
X
26A
Rod Howe
X
Rod Howe Party
27
Curtis King
Curtis King Party
X
27A
Curtis King
X
Curtis King Party
28
Garrett Knox
Garrett Knox Party
X
28A
Garrett Knox
X
Garrett Knox Party
29
Jim Lee
Jim Lee Party
X
29A
Jim Lee
X
Jim Lee Party
30
Jason Leonard
Jason Leonard Party
X
30A
Jason Leonard
X
Jason Leonard Party
30B
Melissa Leonard
X
Jason Leonard
31
Garrett Linse
Garrett Linse Party
X
31A
Garrett Linse
X
Garrett Linse Party
32
Ryan Marquardt
Richard Marquardt Party
X
32A
Ryan Marquardt
Richard Marquardt Party
33
JD Martin
JD Martin Party
X
33A
JD Martin
X
JD Martin Party
34
James Mathews
Jim Mathews Party
X
34A
James Mathews
X
Jim Mathews Party
34B
Andrea Schmitt
X
34C
Teddy Schmitt
X
Jim Mathews
34D
Grant Johnson
35
Donald McBride
Don McBride Party
X
35A
Donald McBride
X
Don McBride Party
36
Pat McHugh
Pat McHugh Party
X
36A
Pat McHugh
Pat McHugh Party
37
Dave Millard
Dave Millard Party
X
37A
Dave Millard
X
Dave Millard Party
37B
Mike Dontigny
X
captain dave's boat
37C
Gerald Gaiser
X
38
Larry Monroe Jr
Larry Monroe Party
X
38A
Larry Monroe Jr
X
Larry Monroe Party
39
Robert Myers
Robert Myers Party
X
39A
Robert Myers
Robert Myers Party
39B
Kate Myers
X
Robert Myers Party
40
Josh Nations
Josh Nations Party
X
40A
Josh Nations
X
Josh Nations Party
40B
Carl Nations
X
josh nations
41
Craig Nelson
Craig  Nelson Party
X
41A
Craig Nelson
X
Craig  Nelson Party
42
Wade Ralston
Wade Ralston Party
X
42A
Wade Ralston
X
Wade Ralston Party
43
Richard Ramirez
Big boyz on da river
X
43A
Richard Ramirez
X
Big boyz on da river
44
Jason Ramynke
Jason Ramynke Party
X
44A
Jason Ramynke
X
Jason Ramynke Party
44B
Jack Ramynke
X
Jason Ramynke Party
45
Wade Roberts
Wade Roberts Party
X
45A
Wade Roberts
Wade Roberts Party
46
MIchael Robertson
Michael Robertson Party
X
46A
MIchael Robertson
X
Michael Robertson Party
47
William Robertson
Will Robertson Party
X
47A
William Robertson
x
Will Robertson Party
48
Ryan Rodriguez
Ryan Rodriguez Party
X
48A
Ryan Rodriguez
X
Ryan Rodriguez Party
48B
Raina Rodriguez
X
Raina Rodriguez Party
48C
Jason Rodriguez
Jason Rodriguez  Party
49
Fred Simmons
Fred Simmons Party
X
49A
Fred Simmons
X
Fred Simmons Party
50
Ben Skaw
Ben Skaw Party
X
50A
Ben Skaw
Ben Skaw Party
50B
Shelby Newton
Shelby Newton Party
51
Jeremiah Stephens
Jeremiah Stephens Party
X
51A
Jeremiah Stephens
X
Jeremiah Stephens Party
52
Travis Street
Travis Wade Party
X
52A
Travis Street
X
Travis Wade Party
53
Mark Tavelli
Mark Tavelli Party
X
53A
Mark Tavelli
X
Mark Tavelli Party
54
Bill Tierney
Bill Teirney Party
X
54A
Bill Tierney
X
Bill Teirney Party
55
DNiel Turlington
Daniel Turlington Party
X
55A
DNiel Turlington
X
Daniel Turlington Party
56
Robert Vert
Let 'er Bite
X
56A
Robert Vert
X
Let 'er Bite
56B
Andy Horner
X
Let 'er Bite
56C
Mike Shreve
X
Let 'er Bite
57
Noah Washburn
Noah Washburn Party
X
57A
Noah Washbur
X
Noah Washburn Party
58
Jason Williams
Williams Jason Party
X
58A
Jason Williams
Williams Jason Party
59
Scott Wood
Scott Wood Party
X
59A
Scott Wood
Scott Wood Party
59B
Jordan Tarrant
scott wood party
59C
Jeff Wood
Scott Wood Party
60
Joshua Corke
Josh Corke
X
60A
Joshua Corke
Josh Corke
60B
Kayla Beryhill
X
Kayla Beryhill Party
61
Michael McElroy
Michael Mcelroy Party
X
61A
Michael McElroy
X
Michael Mcelroy Party
While most people recognize the contribution KOR makes to fish conservation, some question the effectiveness of this project and the impact it could have on native fish populations. For more information please visit: King of the Reach fishing derby questions answered
Here are some questions WDFW is often asked regarding the derby:
Q. What happens to fish caught in this derby? In most salmon derbies, anglers get to keep what they catch.
A. In KOR, the fish caught are handed over to WDFW to be used as broodstock at the Priest Rapids Hatchery to create more fish. No fish are retained for personal consumption by anglers participating in the event.
Priest Rapids produces and releases 7.3 million juvenile fall Chinook salmon into the Columbia River each June on the Hanford Reach. They are not sent to other areas of the Columbia or state for release. These fish contribute significantly to a variety of fisheries from the oceans of Alaska to the Tri-cities.
Q. Why is it important to catch fish from the Hanford Reach and use them for reproduction? Why can't fish from anywhere be used? And why do they need to be native, not hatchery-origin, fish?
A: Offspring of natural-origin (wild) fish are more genetically adapted to survive in their natural environment. Ideally 30% of hatchery broodstock should come from natural origin fall Chinook, and preferably from URB from the Hanford Reach, to keep native genetics in the gene pool.
The Priest Rapids Hatchery has a fish "trap" that spawning fish enter. Less than 10% of the fall Chinook that end up in the trap are natural origin, and many are from other parts of the Columbia River, making additional efforts to secure natural origin fish a necessity.
Q. Does KOR replace natural populations with hatchery fish? Will natural origin fish eventually be wiped out by this operation?
A: Over the ten years of the KOR program (numbers are broken out by year below), less than 1% (0.6%) of the Hanford Reach natural origin fall chinook population has been collected for KOR. In comparison, an average of 12% of the natural origin fall Chinook are harvested each year by sport anglers on the Hanford Reach. The relatively small number collected during KOR makes a large impact in the genetic makeup of the fish released from the Priest Rapids Hatchery.
The American Fisheries Society recently published a peer reviewed manuscript on this topic.
Q. Why do people fish this derby if they can't keep these large fish?
A. While there are many prizes for participants, and it is always fun to fish for big fish, many people recognize the contribution to conservation that KOR makes and support this work. There are many area groups, including high school students, that volunteer to work the derby for the same reason. In the first ten years of KOR, 1,841 volunteers assisted with the Project collecting 6,780 adult fall Chinook. The comradery and friendly competition coupled with the connection to improving fish conservation make this a great event.
Q. What is the mortality rate of Chinook at this event?
A. Each year, only a handful of fish die in the time between being caught and loaded into the hatchery truck.