Southwest Washington Chapter
The Southwest Washington Chapter of Coastal Conservation Association (CCA) is a nonprofit organization dedicated to conserving and enhancing the marine resources of Washington State. The chapter advocates for sustainable fishing practices, promotes marine conservation education, and engages in legislative and regulatory efforts to protect and restore fish populations. The Southwest Washington Chapter of CCA works closely with local communities, businesses, and government agencies to ensure the long-term health and vitality of the region's marine environment, and to provide recreational fishing opportunities for present and future generations.
SW Washington Chapter meeting are an important gathering of members and supporters who are passionate about marine conservation and sustainable fishing practices. These meetings provide an opportunity to stay informed about critical issues affecting the marine environment, collaborate on advocacy efforts, and connect with other like-minded individuals. They also offer a valuable forum for learning about new techniques and technologies for sustainable fishing, as well as local fishing regulations and laws. Overall, the CCA South West Washington Chapter meetings are a great way to stay engaged with the community and make a positive impact on the long-term health and vitality of our marine resources.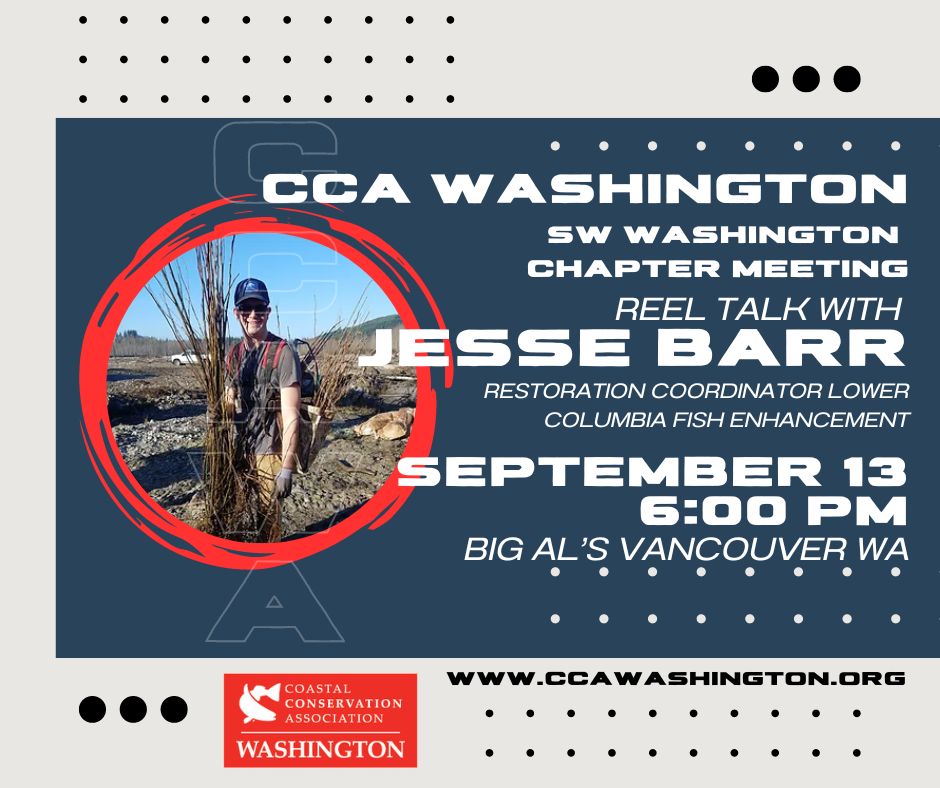 CCA SW Washington September Chapter Meeting
Dear Friends of CCA Washington,
We're thrilled to announce that our SW Washington Chapter Meetings are back in action! Join us for our upcoming meeting on September 13, 2023, at the fantastic venue of Big Al's in Vancouver, WA. It's an evening you won't want to miss!
Here are the details:
📅 Date: September 13, 2023 🕕 Time: 6:00 PM 🏢 Venue: Big Al's, Vancouver, WA
We're excited to feature a special guest speaker, Jesse Barr, the Restoration Coordinator for Lower Columbia Fish Enhancement Group.
This meeting promises to be informative and engaging, providing an excellent opportunity to reconnect with fellow members, make new connections, and stay updated on the latest developments.
Please mark your calendars and be sure to bring your enthusiasm and questions for Jesse Barr.
Let's make this meeting a memorable one. We can't wait to see you there!
Best regards,
Marc terHorst
SW Washington Chapter President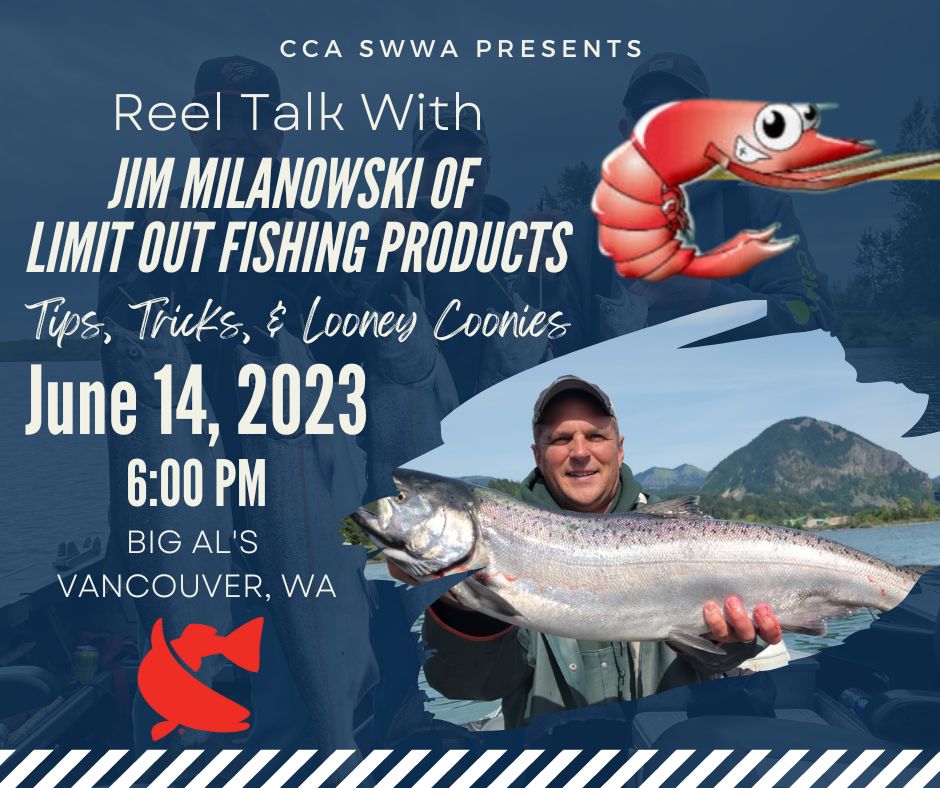 CCA SW Washington May Chapter Meeting
The CCA SW Washington Chapter's last meeting before summer is on June 14, 2023, at 6:00 PM at Big Al's in Vancouver, WA. 
We're thrilled to have Jim Milanowski from Limit Out Fishing Products, the home of Looney Coonies, as our special guest. Jim will be sharing tips, tricks, and Looney Coonies.
Don't miss this opportunity to connect with fellow fishing enthusiasts, learn from Jim's experiences, and contribute to our coastal conservation efforts. 
Join us in making a difference! 
Sincerely, 
Marc terHorst
CCA SW Washington Chapter President
CCA SW Washington May Chapter Meeting
Get ready to cast your net wide and reel in some big results! The Coastal Conservation Association SW Washington Chapter Meeting at Big Al's on May 10, 2023, is the perfect catch for fishing enthusiasts and conservationists alike. Join us at 6:00 PM for an evening of informative tips and tricks from Pro Fishing Guide Pro Escobedo. With his expert guidance, you'll be hooking the biggest catches in no time. Don't miss this chance to network with like-minded individuals and make a splash in the world of fishing and conservation!